Features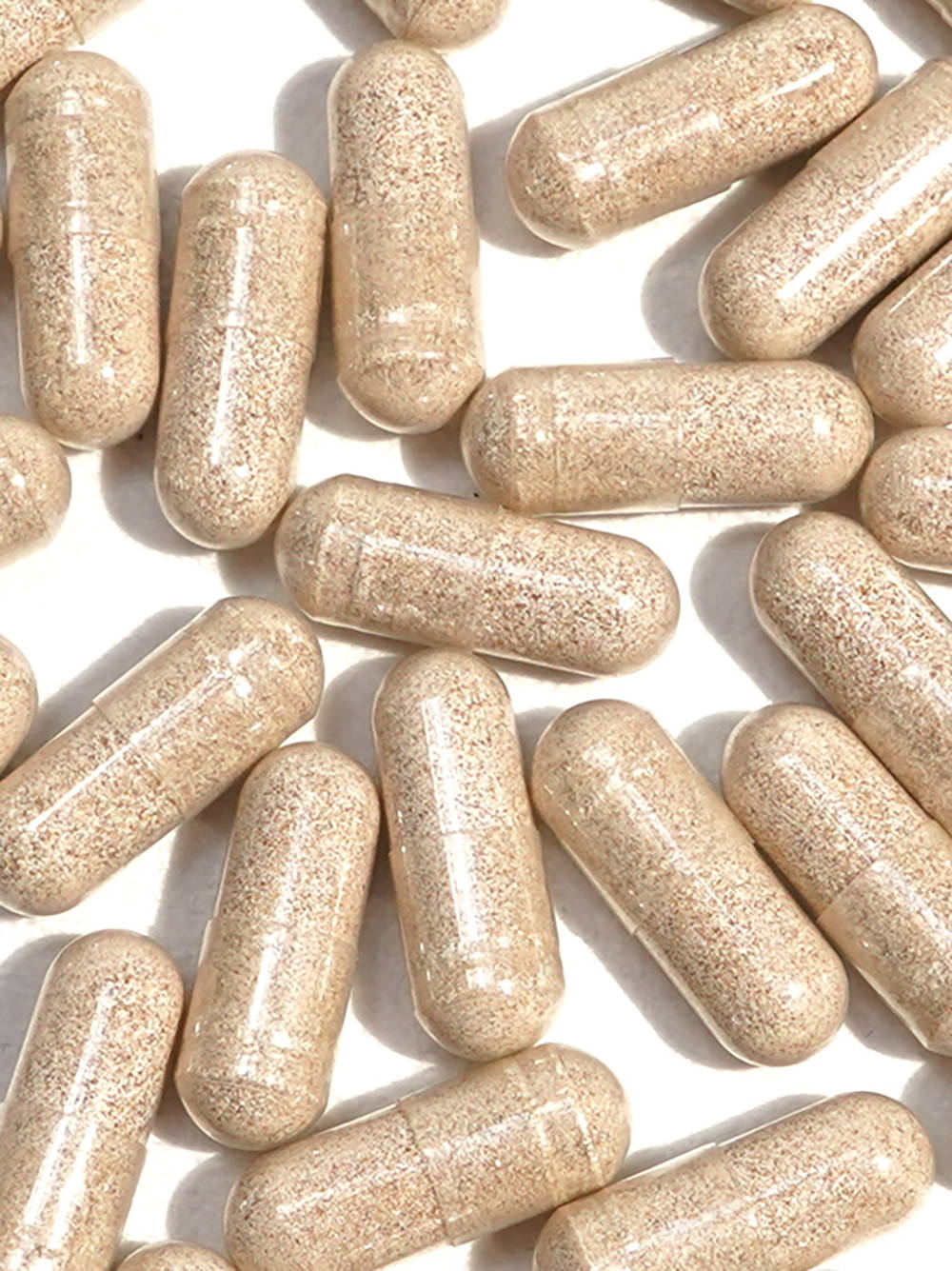 ---
DESTRESS 360 BY THE NUE CO.
DESTRESS 360 BY THE NUE CO.
We are proud to be teaming up with wellness advocates, The Nue Co, for the exclusive launch of their new product; DESTRESS 360. To celebrate their latest release, we caught up with founder and CEO Jules Miller about managing stress, work/life balance, introducing supplements to your life, and more...
---
---
---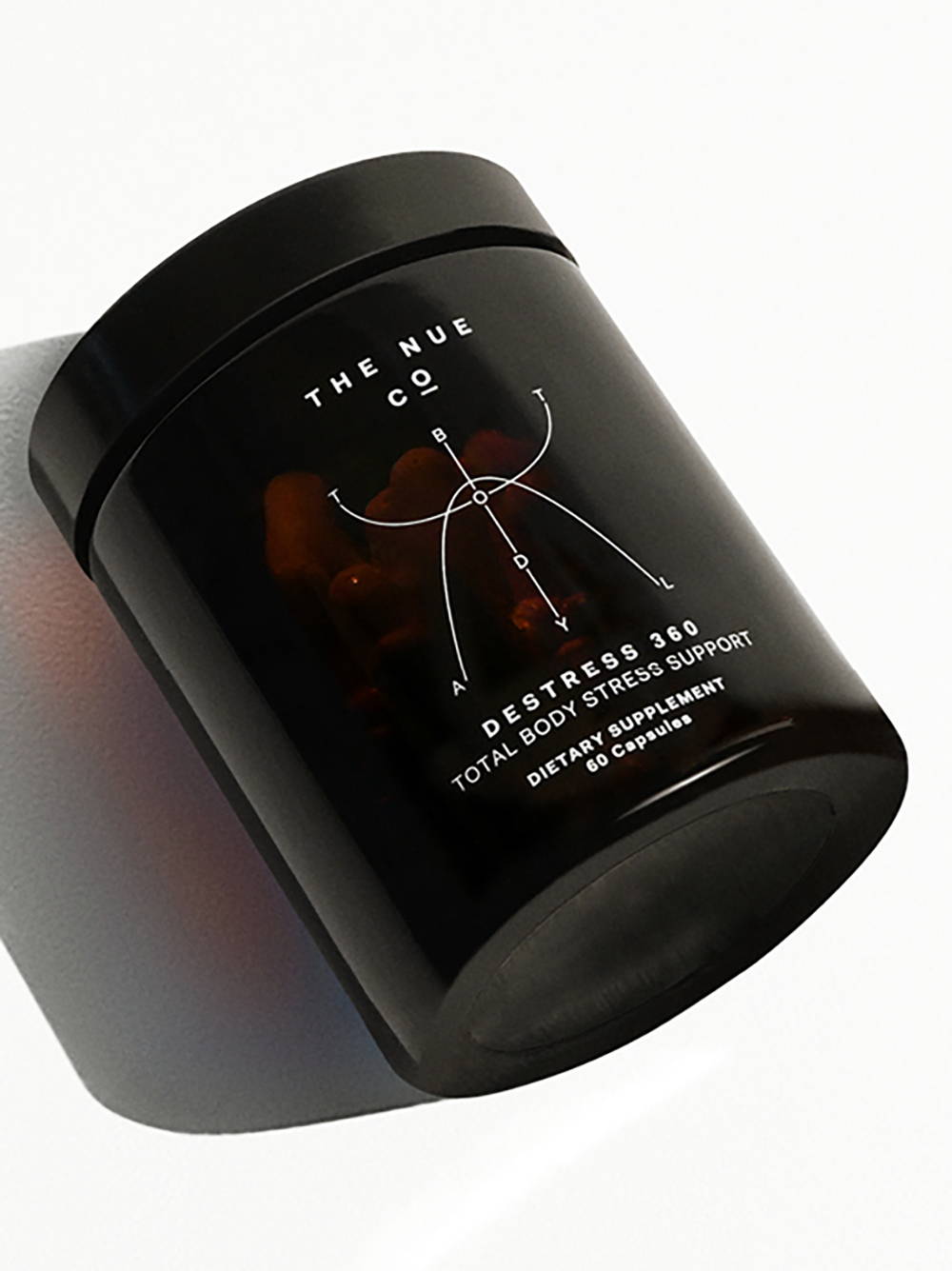 ---
---
GOODHOOD: What led you to start The Nue Co.?
JULES MILLER: The first products of the brand were created to address issues around gut health, stemming from my own experience with IBS in my mid-twenties. At the time, I was taking multiple supplements which were making my symptoms worse. After a conversation with my grandfather, who was a lecturer at Cambridge University and often making his own natural remedies, I realised how many products contained artificial ingredients such as bulking agents and fillers. From there, I set out to create a solution, combining the best of nature and science, using only clean and sustainable ingredients, to deliver proven results.
GH: What's good about your new product, Destress 360?
JM: DESTRESS 360 provides daily care for the long-term effects of stress. It's a common misconception that stress only affects us emotionally and that its effects come and go as quickly as our mood changes; we don't make the connection between stress and our stomach cramps, or stress and disinterest in sex. Research shows that our body is our subconscious mind and it carries physical memories of elevated stress far longer than our emotions do. DESTRESS 360 was created as a total body stress support, using clinical ingredients to regulate the stress hormone cortisol, while supporting the five bodily functions most depleted by long-term stress: immunity, muscle tension, sex drive, digestion and focus.
---
"OUR BODY IS OUR SUBCONSCIOUS MIND AND IT CARRIES PHYSICAL MEMORIES OF ELEVATED STRESS FOR FAR LONGER THAN OUR EMOTIONS DO"
---
---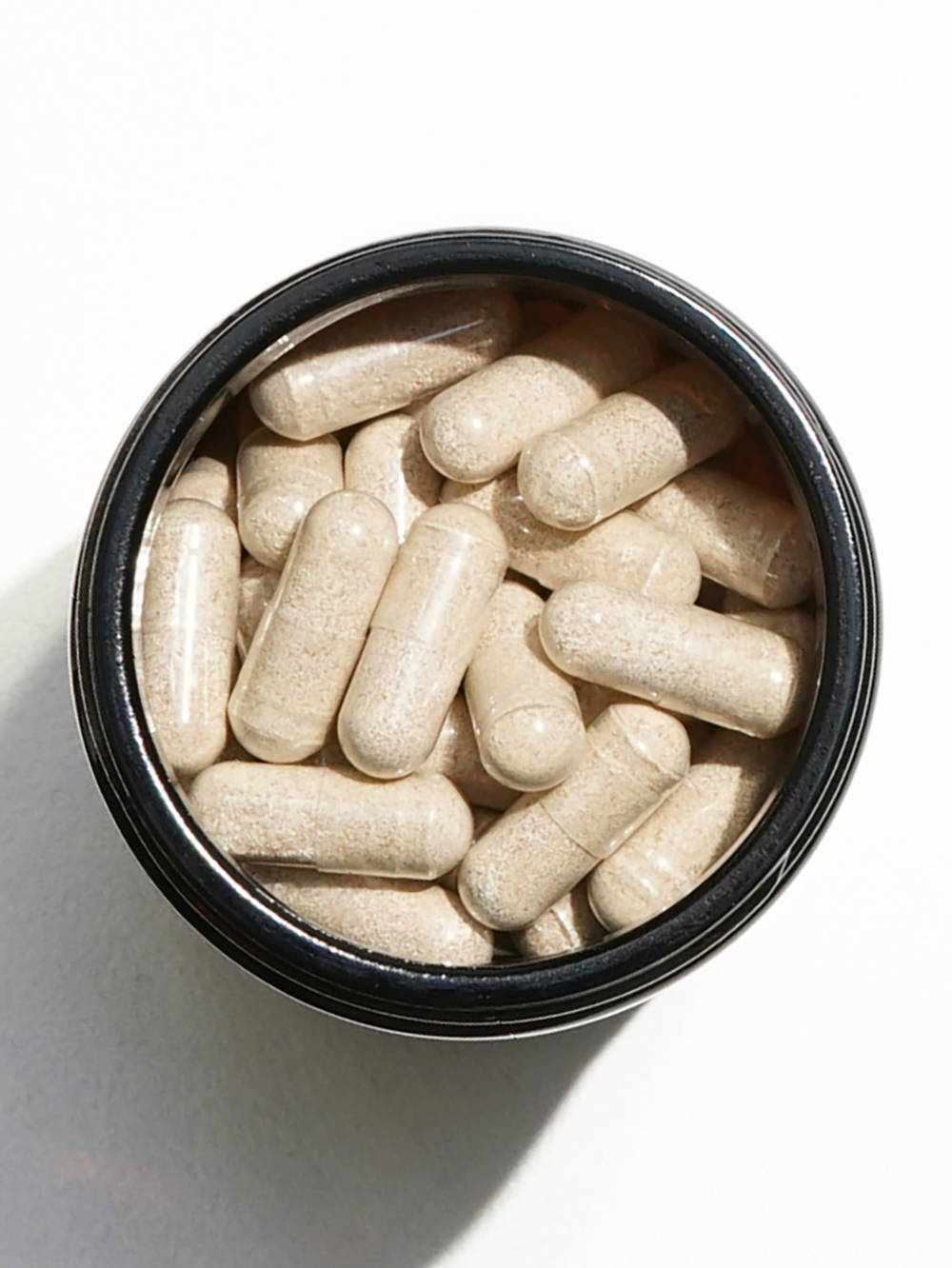 ---
---
GH: How do you personally alleviate stress?
JM: Stress is an inevitable part of our lives. Rather than trying to remove stress completely, I think it is important to focus on how you can manage it as part of your day-to-day lives. I like to take a holistic approach, ensuring that I'm getting enough good quality sleep, eating a diet of nutrient-rich wholefoods and drinking plenty of water. Routine is also important to me, so I take my puppy for a walk each day. I've come to recognise the importance of listening to your body in signaling when it really may need to take a break. If I can feel a headache coming on, I try to take time out and disconnect from devices to rest before it becomes more of a problem.
GH: Being the founder and CEO of The Nue Co., how do you maintain a work/life balance?
JM: Achieving a perfect work/life balance is something that is always evolving. I definitely wouldn't say that it is something that I have mastered, but I've come to recognise that prioritising things that are important to me, such as time with my family and friends, allow me to have a better frame of mind. This in turn allows me to be a better leader in the workplace.
GH: Any self-care tips, and how we can introduce The Nue Co. products into a self-care routine? (Please quote products stocked at Goodhood)
JM: Being in nature has a powerful effect on our physical and mental wellbeing - one of my favourite things to do is to get out of London and spend time walking in the countryside. Many of the health benefits associated with spending time in nature can be attributed to a compound released by trees called phytoncides. Research shows that phytoncides significantly increase levels of natural killer cells in the human immune system and are credited for numerous positive health benefits, namely stress reduction, anxiety reduction and boosting the parasympathetic (rest) nervous system. Our anti-stress fragrance FOREST LUNGS was developed to bring the experience of nature indoors by replicating the molecular structure of phytoncides. Since scent is one of the most powerful ways to influence your nervous system, it is an incredibly powerful way to relieve stress. I like to use a few sprays to keep me calm throughout the day.
---
"RATHER THAN TRYING TO REMOVE STRESS COMPLETELY, I THINK IT IS IMPORTANT TO FOCUS ON HOW YOU CAN MANAGE IT"
---
---
---
---
GH: How do your supplements play a role in health, well-being and mental health?
JM: Supplements support your health by boosting the essential nutrients within the body. We use a lot of food-based ingredients in our formulas as these nutrients are best received through our diets. If you feel that you may not be getting everything you need from your diet, or you need an extra boost, supplements can help. Most people don't make the connection between supplements and mental health— in a recent survey we found that 1 in 3 people didn't know that supplements could help them support their body with stress. Our formulas are created to address targeted concerns in a holistic way. For example, DESTRESS 360 contains L-Theanine, proven to help boost alpha brain waves that enable relaxed concentration and increased creativity, alongside Vitamin C and Zinc to help to boost immunity and adaptogenic Ashwagandha extract which helps to moderate the body's physical and physiological response to stress.
GH: What does health and well-being look like to you?
JM: To me, true health encompasses our physical and mental health, but also the health of the environment and the communities around them. Health is an ecosystem that exists between these elements and is something that we are particularly conscious of as a brand.
GH: If you could only use one The Nue Co. product for the rest of your life, what would you choose, and why? (Please quote a product stocked at Goodhood)
JM: SKIN FILTER is one of the non-negotiables in my daily routine. I had relatively good skin until I turned 30 and started to notice huge differences in my skin with blemishes as well as hyperpigmentation. We set out to create an 'ingestible retinol' that would help improve the overall health of your skin from the inside-out. It uses a proprietary blend containing champagne grape seed, melon, vitamin C, and zinc and is designed to address multiple skin concerns in one go—blemishes, pigmentation, redness and dull skin. I've noticed a huge difference in the health of my skin and would say it is now better than ever.
---
"TRUE HEALTH ENCOMPASSES OUR PHYSICAL AND MENTAL HEALTH, BUT ALSO THE HEALTH OF THE ENVIRONMENT AND THE COMMUNITIES AROUND THEM"
---
---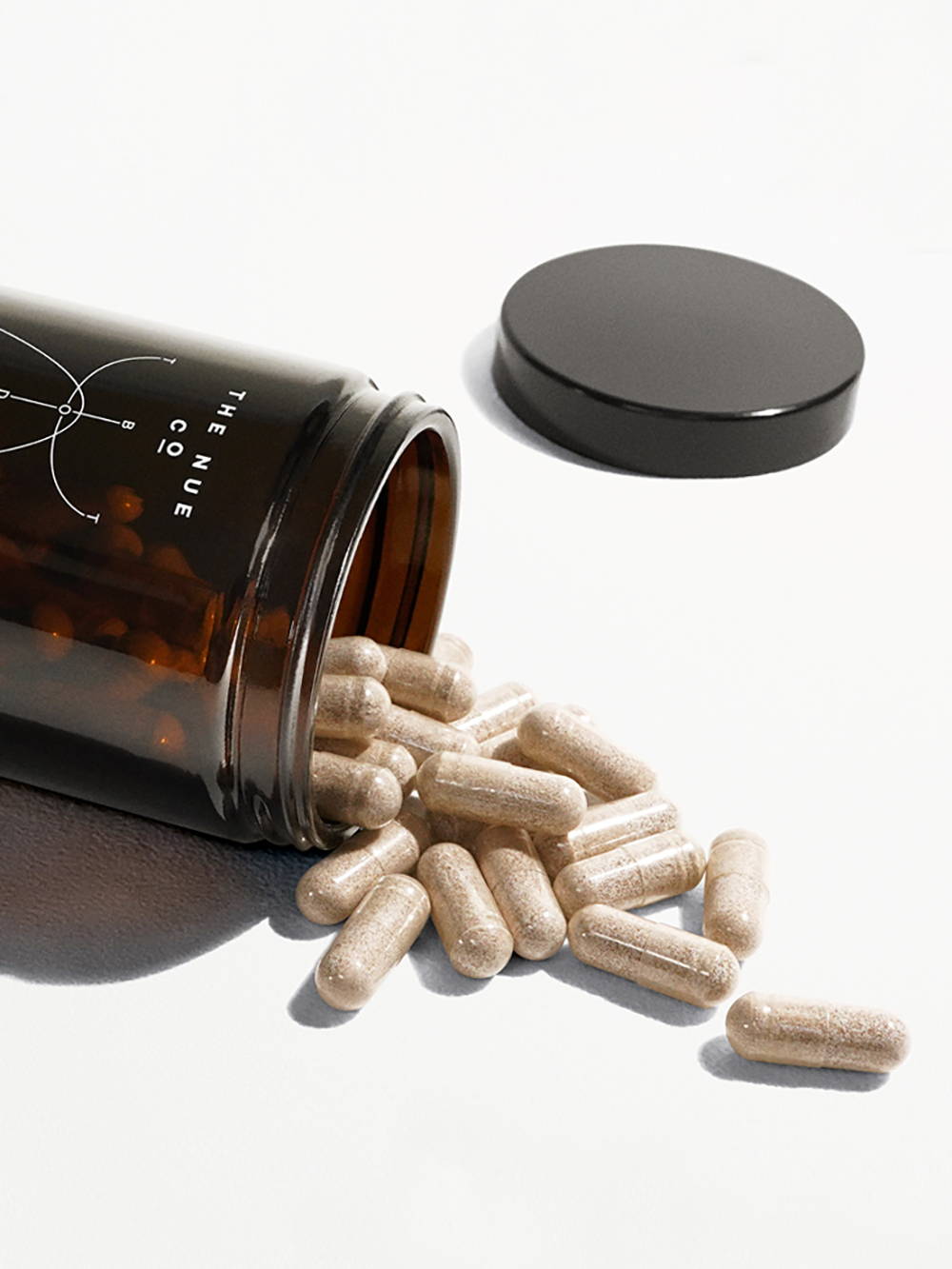 ---
---
What would be your advice to a first time supplements user? Where should they start?
My advice to people who are new to supplements is to listen to your body - it starts with truly understanding what our bodies need, restoring a connection with how we are feeling internally and what we are noticing externally. We say our PREBIOTIC+PROBIOTIC is the backbone to your health as our gut has such a powerful impact upon the rest of our bodies from our digestion to our skin and even our mood. The skin is often referred to as the mirror to the gut, so what you are seeing, anything from breakouts to hyper-sensitivity, may be a reflection of what is going on with your gut microbiome. From there, you can start to address other concerns and we have an online consultation to point you in the right direction. My other key piece of advice is to introduce supplements one at a time, and try them for at least 30 days before you assess the results.
What's next for The Nue Co.?
2021 is a big year for us, with another new product scheduled to launch before the end of year—our fourth this year. We also have some exciting things happening internationally; continuing our growth in the US which was the first market we launched in, while planning to expand in the UK, Europe, Middle East and Canada.
---
"THE SKIN IS OFTEN REFERRED TO AS THE MIRROR TO THE GUT, SO WHAT YOU ARE SEEING, MAY BE A REFLECTION OF WHAT IS GOING ON WITH YOUR GUT MICROBIOME"
---
---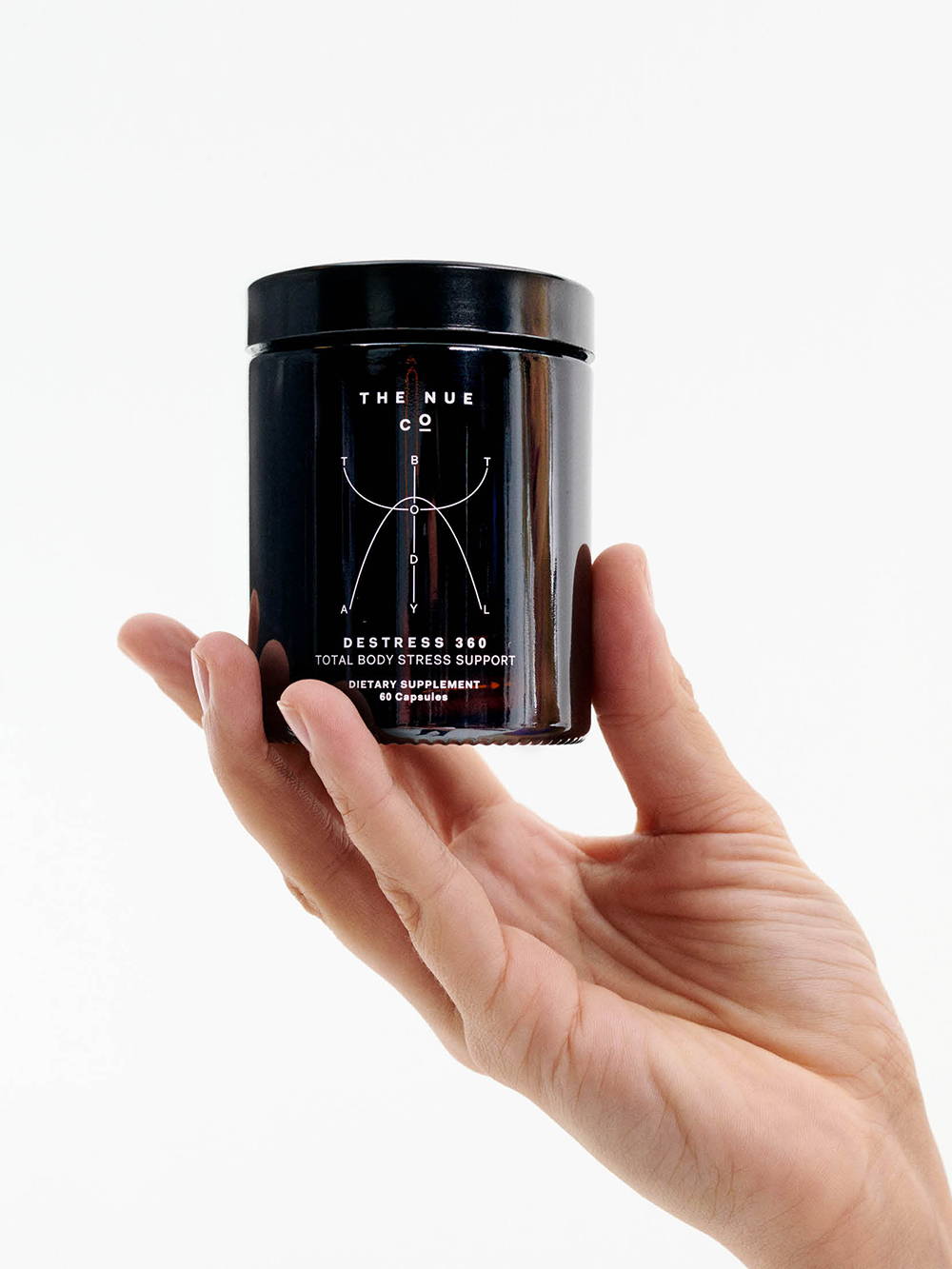 ---
---
---
---